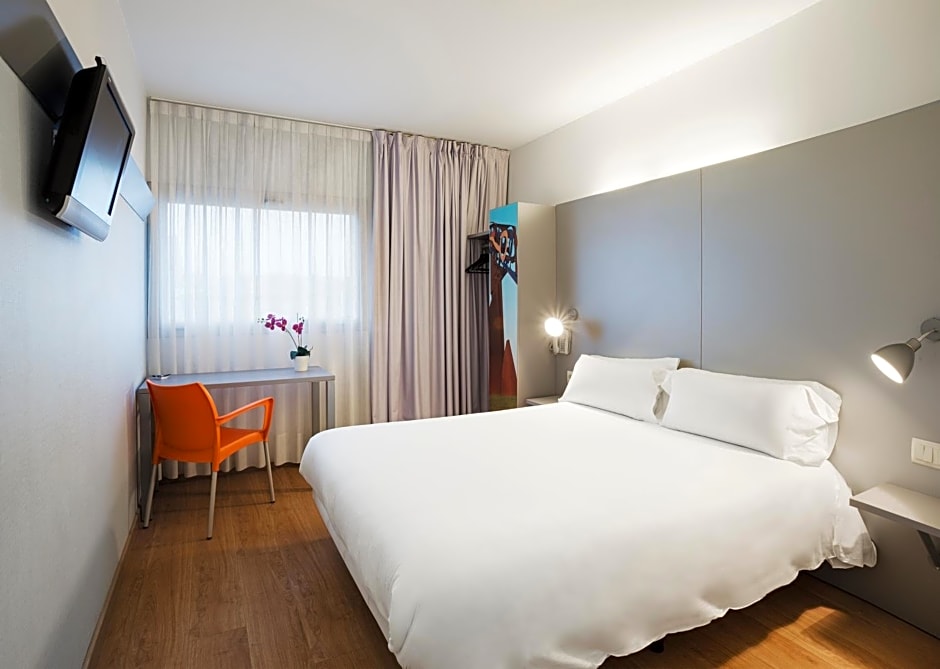 B&B Girona 2 is a comfortable hotel located within a few minutes from the historic heart of Girona, offering easy access to the major road links between France and Italy, and all that the city has to offer. Guests travelling by car will find complimentary parking upon arrival.

Each of the 98 spacious rooms features comfort and up-to-date amenities that will suit business and leisure guests alike. They include an en-suite bathroom, a work station and quality bedding. A free wireless internet connection is also available in the rooms.

Thanks to its convenient location and its wide range of services, the B&B Girona 2 is the perfect choice for a good night sleep in the city of Girona.
予約する方法
B&B Hotel Girona 2で予約するのが簡単で安全でございます。ご希望の日付を選択します。そして、フォームを送信するために「料金を確認し」というボタンをクリックします。 客室タイプと料金はお宅の画面に戻った後で、画面の中央にある部屋の情報を読むと画面の右側にある「予約する」というボタンをクリックすることによって希望の料金を選択することができます。希望の客室タイプを選択した後で、「ご予約を完了」というフォームに転送されます。その時に「滞在の詳細」を確認して、「ゲストの詳細」という部分の空欄でご自分の詳細のことを書きます。ご自分の名前とメールアドレスが正しく入力されていることを確認してください。 すべての重要な情報を記入した後で、「ご予約を完了」というボタンをクリックしてください。ご自分のセキュリティを確保するために、私たちがクレジットカード番号を暗号化し、非使用可能な形式にエンコードする安全なコマースサーバーを使います。
地域情報
空港

Gerona, Spain (GRO-Costa Brava)

- 4.88 mi

Perpignan, France (PGF-Perpignan - Rivesaltes Intl.)

- 53.62 mi

Barcelona, Spain (BCN-Barcelona Intl.)

- 58.67 mi

ミュージアム

Film Museum Museu del Cinema

- 2.27 mi

Museu d Historia de la Ciutat

- 2.49 mi

Girona Art Museum Museu d Art

- 2.52 mi

Girona Art Museum

- 2.55 mi

Museu d Arqueologia de Catalunya

- 2.66 mi

Museum del Mar Garriga Houses

- 18.75 mi